Doug Campbell first came to our attention when he became a customer of Lamps and Lights when working on the MOST STUNNING metal work lamp. His unique work caught our eye and we were were very pleased when he responded to our request of knowing more details. Here's what he has to say.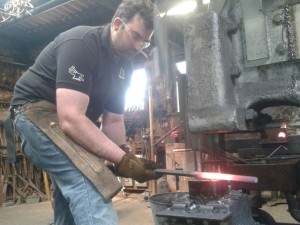 "I am a traditionally trained British Artist Blacksmith living and working in Hertfordshire. Having studied for two years under Master Blacksmith Michelle Parker FWCB (Fellow of the Worshipful Company of Blacksmiths) I continued to gain skills and experience working under the guiding hand and tutelage of Master Blacksmith Steven Rook.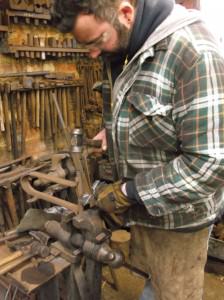 In the latter part of 2013 I began working as an independent artist blacksmith, completing both private and public commissions and displaying my work in galleries like the ArtWorks art gallery in Lark Lane Liverpool, where I continue to display my work and occasionally demonstrate my craft to the general public. I often get a very good response from the demonstrations that I do, I show how some of the more traditional items a blacksmith would have been known for making are made, items such as fire tools, hooks, spoons etc.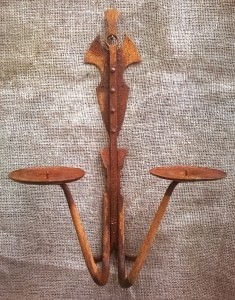 There are many things that influence and inspire me in the work that I do in the forge. Much of the inspiration is drawn from traditional tribal art work and artefacts. I am particularly interested in the cultures and artistry of the head hunting tribes of Borneo, the Philippines, Papua New Guinea and the Solomon Islands. Alongside the inclusion of indigenous peoples' art and motifs I am also influenced in my designs by the organic shapes and forms to be found in bio-mechanical art and the sculptural forms and functions of the Art Nouveau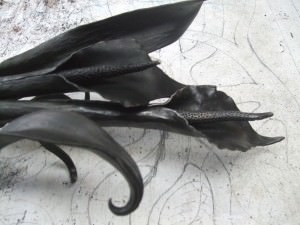 period, I find the fluid organic shapes and designs to be visually very powerful yet often very simple. René Lalique was an exponent of this naturalistic style in his early jewellery and glass designs, before gaining further renown in the 1920s for his glassware in the Art Deco style which; in many ways; was ahead of its time.
I have a particular fondness for the metal working technique of Repoussé, which is the method of decorating metals in which parts of the design are raised in relief from the back of the piece by means of hammers and punches; definition and detail can then be added from the front by chasing or engraving. The name Repoussé is derived from the French pousser, "to push forward." Working of the metals is done on lead blocks, sandbags and for smaller gauged sheet and copper working, the piece being worked is set in pitch. This ancient technique, which has been used all through the history of metalworking, had heavy use in Europe during the 16th, 17th, and 18th centuries.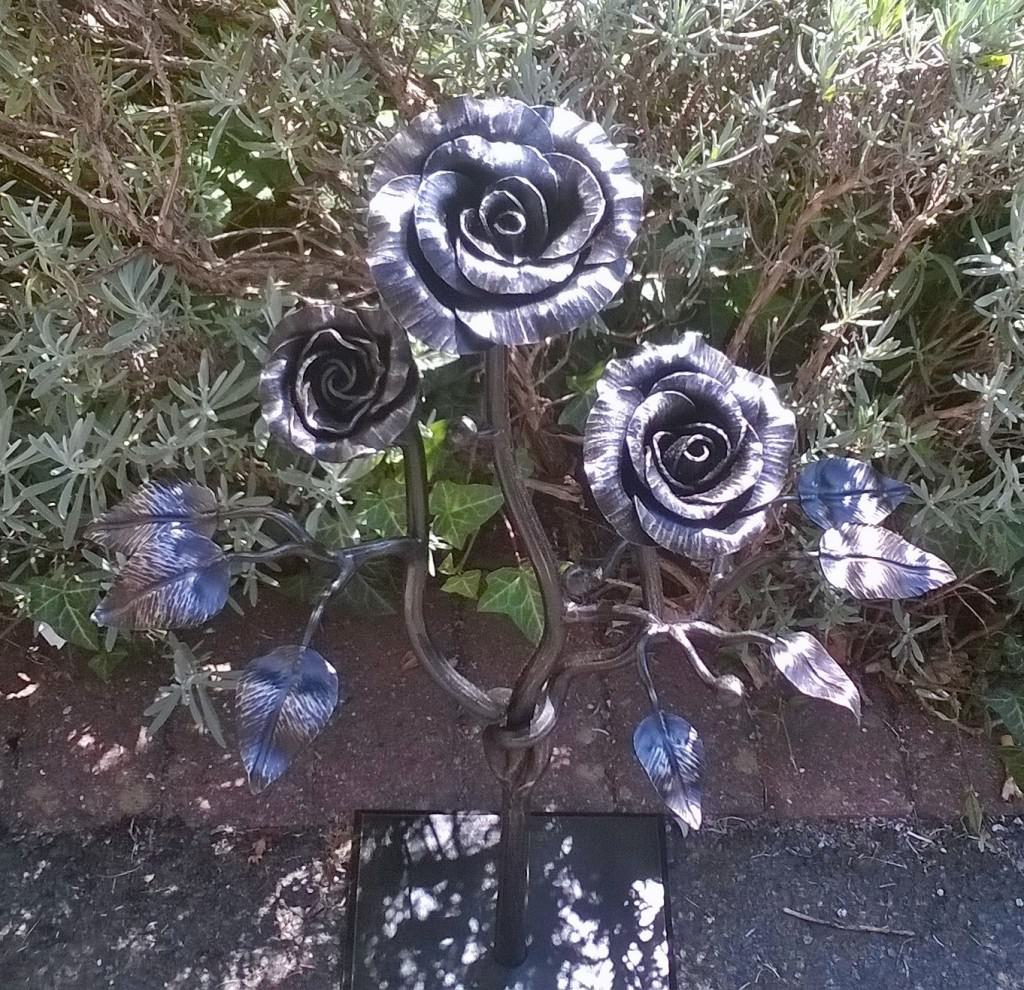 I use this method to create detailed organic forms that can either stand alone or be used in conjunction with hot forged work; an example of the two techniques meeting in my work would be the Orchid Lamp.
This lamp was hand forged out of mild steel, using repouse techniques for the Orchid head, it then had a base treatment called bitumenisation, where the whole piece was placed into the forge with fresh coal on the fire, which produces a high bitumen smoke. This process leaves a silky black sheen to the piece it is then rubbed down to enhance the detailing, The final finish coat is a clear wax.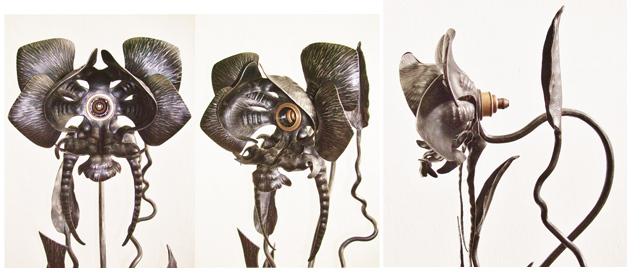 The Orchid lamp was used as part of an opening show for a series of craftsman demonstrations over four weekends, it got a fantastic reception!!
Often the creative process that I go through to make a piece either for a client, gallery or private sale begins on the drawing board, with a concept sketch which then develops through to the final working drawing. Another common part of the process will include making templates or sometimes sized models to ensure a well-balanced piece; the development of the piece often continues to develop during the making process especially for designs that have a particular organic feel, as sometimes these pieces may look fantastic on a 2 dimensional drawing but may look slightly uneven once it starts to take its solid form.
Finish is a very important part of a piece for any artist and no more so than for someone, whose pieces would if not finished correctly, start to degrade and become a rusty mess! The finish for each piece depends on where it is going to be kept and what it will be used for.

Most of the gallery and internal pieces that I do have been finished in the smoke of a coal fire, as the fresh coal produces a very heavy and high bitumen content smoke, a piece that is placed in this smoke and allowed to cool will then be covered in an even layer of black bitumen with a satin none sticky finish, which is then rubbed down to reveal the detailing that has been put in to the piece during the forging process. The pieces are then generally finished with either two coats of wax or a lacquer.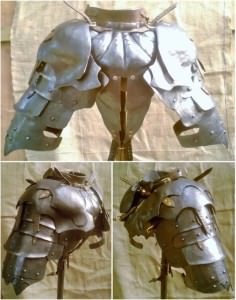 I produce a photographic diary of each piece being made for private clients so they can see their commission being born in either regular updates or all at once in a file at the end of the commission.
My latest piece is a floor standing candlestick that is going up to Glasgow and is based on the coat of arms of the city, which itself is based on the miracle legends of St.Mungo, the founder of Glasgow."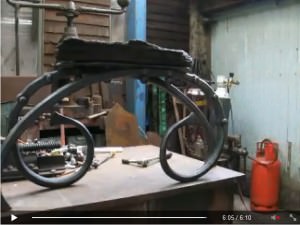 Left is a video showing the forging of a stool with a drift wood seat.
Here at Lamps and Lights we greatly admire Doug's work and should you wish to get in touch you can through his website www.caimbuelsforge.co.uk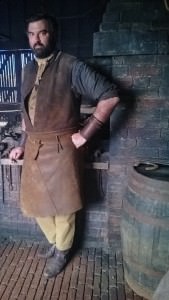 And we just had to add in our favourite photo of Doug, as the Blacksmith on the set of Ron Howard's new 2015 film Heart of the Sea … Looking mighty fine Doug …
You can also check him out on his Facebook page at www.facebook.com/caimbeulsforge