"Field of Light Uluru"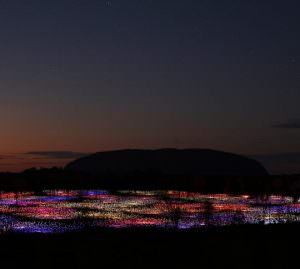 Australia's famous red sandstone monolith – Uluru rock is located in the desert of the Northern Territory and for about 2 years now, the sacred landscape of Uluru has been lit up with a multi-coloured display of solar powered lights. The installation by the artist Bruce Munro consists of more than 50,000 bulb-shaped flowers that are connected by a network of fibre optics. The artist and his team were careful not to disturb the land and worked with the natural landscape to create an organic outcome without a specific or organised pattern, so once the installation is taken down, the area will be left as found.
Referred to as "Tili Wiru Tjutu Nyakutjaku" by the indigenous Anangu people, which translates to "looking at lots of beautiful lights", the installation is located six miles away from the sacred rock. Munro was inspired by the burst of happiness he felt during a trip to Uluru he took with his wife.
Luckily for travellers, "Field of Light Uluru" has received an extension until 2020. This means there's still plenty of time to plan an illuminated visit to Uluru and enjoy the amazing landscape filled with light. Our lucky Australian customers will have a little less distance to travel to than our UK ones.