We love working with designers and here at Lamps and Lights we especially enjoy it when they come back to us sharing their photos, showing how our products fit into their designs and the interesting processes behind their creations. We are regularly astounded by the innovative beauty of their work and recent Lamps and Lights' customer Emma Mackintosh did just that.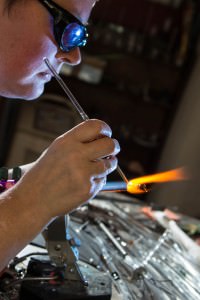 Emma produces the most stunning bespoke and totally individual glass chandeliers showing the detail achievable with flameworking. The art of flameworking (also known as lampworking) is a method of working with glass using a small, very hot gas fired torch to melt rods of glass to create uniquely detailed sculptures in contrast to the traditional glass blowing involving a large hot furnace. Emma uses the small torch to allow her to control more precisely and personally the aesthetics of a finished product. Using borosilicate glass, one off pieces are created as the glass colour changes with the light.
Emma says "Producing glassware that is both classic and contemporary, with purpose and a unique twist, I am inevitably influenced by the stunning setting of the Lake District: nature and the natural world often find their way into my work. My own personal style and methods of working have been added to through learning from internationally renowned flameworkers from the US and Germany. I have recently had a piece chosen for the US Glass Art Society Lifeforms exhibition at Pittsburgh Glass Center, and have demonstrated flameworking at the International Festival of Glass in Stourbridge as well as at the UK Flame Off and Glass Gossip in Holland".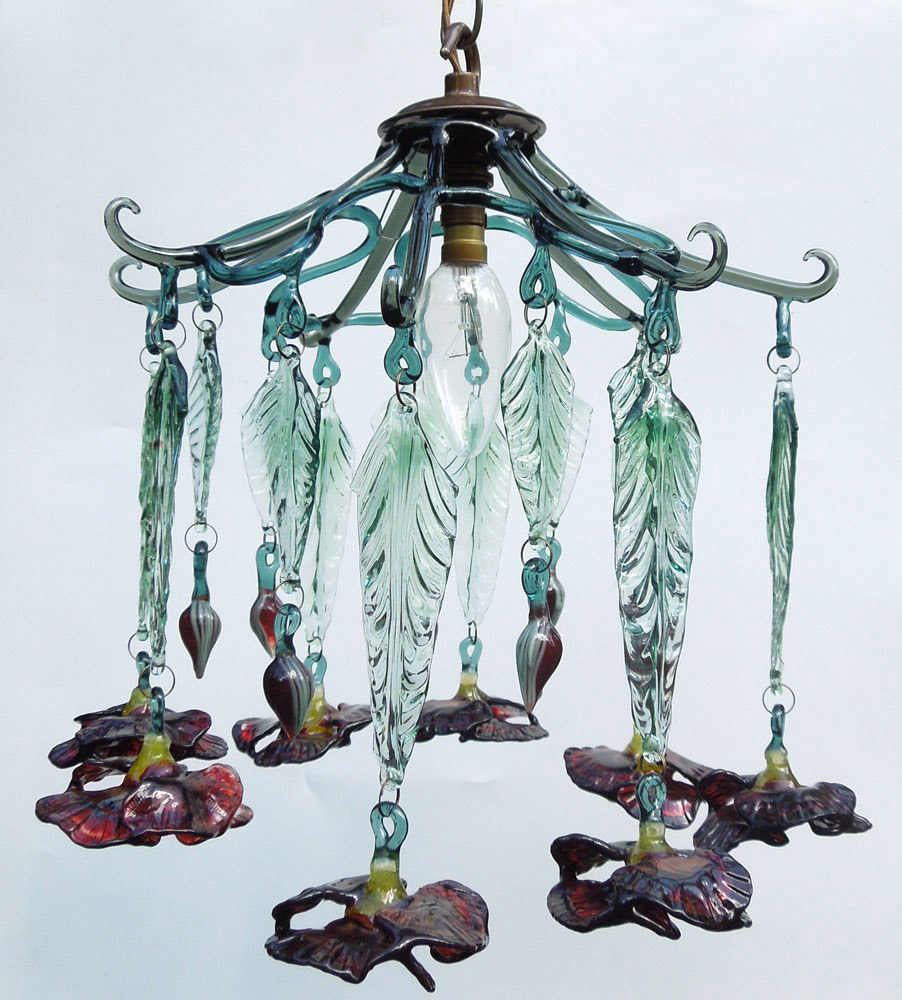 Poppies is a single chandelier-style glass shade with hanging poppies, leaves and buds. Fitting securely to the chandelier, the elegant top shade can be made in glass or metal and fits into spring clips that hold it in place. There are 16 holders for the hanging leaves, flowers and buds – each individually worked and joined together with small chandelier rings. This allows some movement, which is a nice effect and also very practical. The poppy petals have been worked in a way that gives them texture and variation in colour which adds to the interest of the piece and the chandelier has an 'arts and crafts' feel.
"The Poppies chandelier uses an antique coloured gallery with spring clip with a 10mm hook rather than a cord grip and matching bayonet lamp holder, I also matched this with an antique coloured flex and aged brass chain to complete the look".
Elegant white lily-shaped flowers and clear leaves are a favourite for chandeliers. Emma designed the frame for this chandelier to match the style of the glass drops and give the whole piece a contemporary yet still classic look. Each flower was made using hand-mixed glass cane to add fine detail and all drops were finished with little leaves.
"The white lilies chandelier uses an E27 bulb lamp holder with hook. The rings on the lamp holder hold the shade in place and I again used a matching lamp chain and flex cord".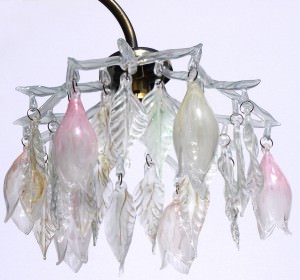 Pale Ghost glass chandelier shade uses a pale, semi-opaque white, highlighted with accents of colour to create a more subtle, neutral look. Fitting securely to the chandelier, the branch-like shade structure at the top of the chandelier has a clear glass ring that is worked to fit into spring clips that hold it in place. Each 'branch' is then coloured and pulled to the correct size before being securely joined to the main structure at the torch. Small glass attachment points for each of the approximately 72 handmade leaves and blown flowers are then added before the whole is placed carefully in the kiln for annealing. These individually worked leaves and flowers are fixed with small chandelier rings. This allows some movement, which is a nice effect but is also very practical as it makes the glass less fragile if brushed against.
"Working with flameworked glass allows me to add colour, detail, texture and intimacy to classic chandelier and lighting styles and produce something eye-catching, full of personality and completely unique. My bespoke glass chandeliers and lighting installations are individually designed to order, working in consultation with the customer and taking into account the space they need to occupy. Whether the commission is for a new design or to update/refresh an existing installation, the result is a totally individual, one-off, artisan-made item".
Emma has been working on a new series of chandeliers that will include individually-designed metal tops, combining the unique nature of the flameworked glass with practicality.
"I was delighted to find Lamps and Lights. The products are brilliant for my designs and I like that they come in a range of colour finishes. They are also easy to combine to get the exact fitting that you need. The coloured flex seems to have become very popular recently and I am really enjoying using this to add that small final flourish to a chandelier.
Lamps and Lights' service has always been excellent and delivery is quick. There have been times when I have needed items delivered in a hurry and this has happened without fuss".
If you would like further information about Emma's chandeliers visit her website  A Flame with Desire.
Emma also produces a variety of glass commissioned special gifts for weddings, anniversaries or other occasions working with you to make something absolutely unique and one-off, something that will be treasured for years to come. Wine goblets and engraved glass spoons, bud vases, a sculptural piece to mark an event or a set of jewellery.
Visitors are welcome to visit Emma's studio to view examples of her installations. To discuss or order a commission, please contact Emma at glass@aflamewithdesire.co.uk. Photography by Tim Murray