We received a wonderful article from Lamps and Lights' customer Dan Child. Here's his story of the 'making of a lamp' …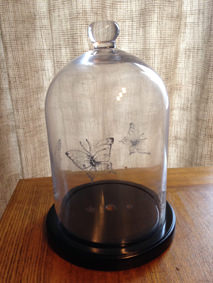 "I was looking for a classically industrial/steampunk pair of bedside table lamps for our new guest room, which is decorated in a warm grey with other quirky items such as a Smeg fridge door displaying our magnet collection, and a floor lamp constructed from steel car parts. I was struggling to find anything suitable, at least for anything less than £100 per lamp, but I was inspired when I saw some cloches for sale in my local Sainsburys.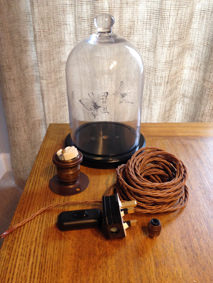 I knew immediately that they would make a great house for some eclectic light fittings, and I was up for the challenge of wiring my own lamps (something I'd never done before).
Now I just had to find some fittings. This search was another struggle. Not content with many of the cheap plastic fittings available on eBay and alike, I came across exactly what I was after on Lamps and Lights.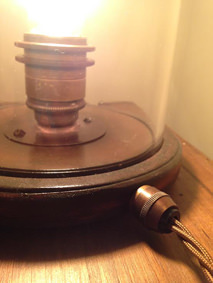 For each lamp I bought a base bulb fitment with cable grips in antique brass finish, a light switch, three pin plug, and several meters of antique brown fabric-corded cable to give that authentic last century feel. I completed the look with some Edison light bulbs for a warm and elegant glow not provided by many of today's harsh energy savers and LEDs.
Before my parts arrived I had prepared each cloche by sanding down the base and coating in a rich brown varnish. I left the finish a little imperfect to age the parts. I also used a household bleach to remove the butterfly motifs printed on the glass covers. When my parts arrived from Lamps and Lights I was able to measure up to ensure I could feed my electrical cables in through the bottom of the base, and grooved out a channel to allow the cable to exit from the side of the base. After wiring up the plugs and switches, I wired in the light fittings and screwed them to the bases.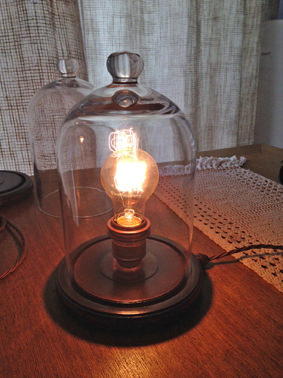 Finally, I installed the bulbs, plugged in and switched on and sat back and enjoyed the soft glow of my very own bedside table lamps, all for about £30 per lamp!
What a great 'successful' project, thanks for sending us this Dan !