After coming to the decision that I couldn't find a good-looking tripod lamp without spending big money, I decided to create my own.
I sketched a few ideas and perused the Internet for inspiration, but what I was planning was fairly unique. I wanted to match simple geometric shapes to produce something clean and fairly timeless. I'm also a sucker for old nautical hardware, so solid brass and dark wood was my starting point.
The domed brass crown was first turned down by hand using a metal lathe, from 100mm solid bar. The sides were then cut on a milling machine, but a slight slip of the hand-wheel meant I had to adapt a few dimensions! A 1/2″ thread was then tapped into the centre hole to accommodate your solid brass light fittings.
1/4″ Brass dome nuts were sourced locally, but I found it almost impossible to find the perfect thumbscrews. In the end I found a Canadian company making these beautiful round ones, and a week later they had arrived with me in New Zealand!
The surface of all the brass parts were finished by hand, giving them a uniform but slightly textured matte finish. It took me many hours and multiple attempts to get this right, but I'm happy with the result.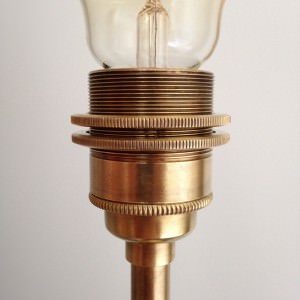 All of the brass was left overnight in a salt and cider vinegar solution, and then baked in an oven to age the metal. It darkens the metal overall, but the patina is unpredictable and mine didn't look pleasant.
I should note that I had to first remove lacquer from one of the brass parts using nail polish remover. Extremely important before baking as it's highly flammable.
The parts looked like they'd been pulled from an old sea wreck! But I had further plans: rubbing the raised areas with Brasso brought the surface back to a shine, with the recessed areas retaining their patina. It's a very subtle antiqued look, which doesn't look forced. I finished the brass with Renaissance wax to prevent further oxidisation.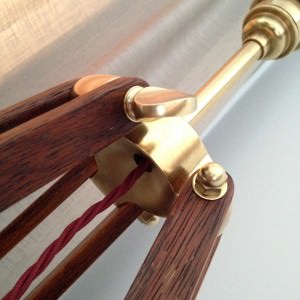 The legs were turned from Kwila wood, and I used the old milling machine to cut each of the slots. Most of my time was spent sanding the wood, all the way down to 600 grit.
Two coats of Danish Oil brought up the grain beautifully, with small golden flecks naturally mimicking the shiny brass hardware.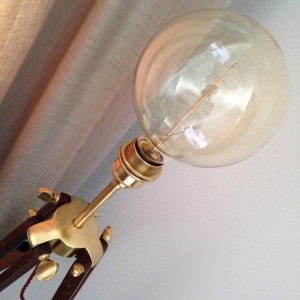 The lamp is wired using Lamps and Lights braided flex cable in burgundy and I plan to add a floor switch at a later date. I also opted for the large globe filament bulb without a shade. However, the option is there for the future!
Hope you like my project – it's the first lamp I've ever made, and the first project of this kind I've ever attempted. It's definitely been a labour of love, but I have a feeling it should last me a while.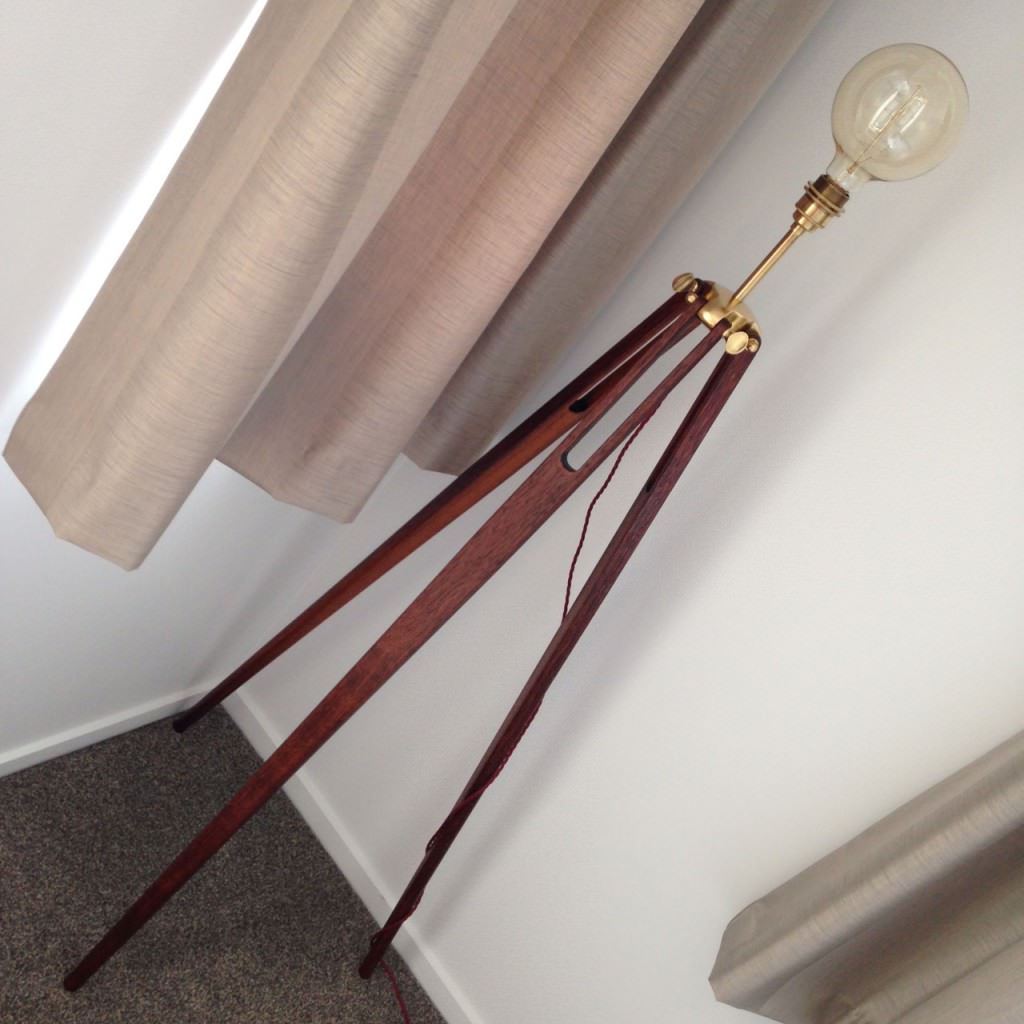 All the best, Chris
(New Zealand)
We hope you liked reading about Chris' project as much as we did, extremely informative and very helpful to read his 'highly flammable' warning :) It's great to see our products being sought after across the globe! Welcome all to our sister-site www.lampsandlights.com