What can we say!
Once again our customers astound us with their unique use of our products.
We are SO pleased to be able to share with you an email sent to us from customer, Jon Sharman this week.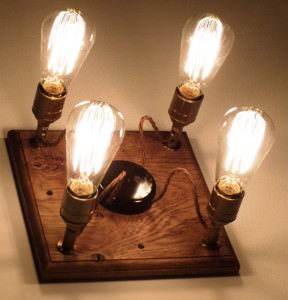 Using our large vintage bulbs, antique finish lamp holder, base plate, side entry tube and reducer plus antique coloured twisted braid light flex, put together with black Bakelite fittings and a beautifully crafted wooden base he has created the most incredible light fittings.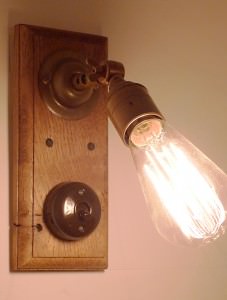 Combining the antique brass flexible arm knuckle joint, wall plate and matching vintage finish lamp holder with this the retro Bakelite switch, works perfectly.

We are so chuffed he emailed us his photos
"To say I am pleased with the result is an understatement! ;) Let me know your feedback. Thanks, Jon"
and so what have people been saying about them ….
One word says it all "Nice!" from Daniel
"Absolutely stunning…want some" Beth
"Wow- could they be any more lush?" Sally
"You are a genius" Sarah
Well said Sarah, all of us here at Lamps and Lights think so too, it makes our working day just so much more exciting to think what could come of this next order we are sending. Well done Jon!