We here at Lamps and Lights are always happy to receive your emails and photos and one of our greatest lunchtime pastimes is reading your stories of what you do with our products. One such delight comes all the way from Australia and we are truly excited to share with you Martin's lamp renovations, he is also a wealth of information and is happy to spread his knowledge …

Parts for old lamps are almost impossible to secure in Australia which I why I have been very glad to find Lamps and Lights in Cambridgeshire (UK) on the internet. They provide an excellent on-line service for lamp parts offer a reliable postage at reasonable rates. Their packaging is always very good.
I have recently restored two lamps: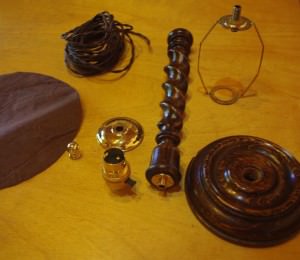 The first lamp base had no fittings at all. As such I bought from Lamps and Lights a lamp-holder, lampholder plate, three-core flex, and a shade carrier. The polish on the lamp was somewhat dull and the base was a little warped, so after sanding the base by hand to level it, I applied a little "golden oak" furniture stain to hide the scratch and then applied a furniture wax suitable for French polish.
After assembling the base I matched it with an Edwardian shade. The globe used was a 15 watt pilot globe, the type you find in a refrigerator.
The picture does not do the shade justice.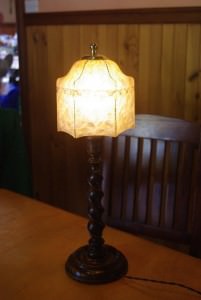 One of my hints from this job:
I always put an "O Ring" on top of the shade carrier so that the shade is actually sitting on the ring rather than the actual carrier. This protects the shade and reduces the chance of damage when cleaning or handling the lamp.
This second lamp was more straight-forward:
I have had the base for about three years and bought the shade about six months ago. I originally bought the shade to match another lamp and whilst I was happy with the result I wanted to start using this particular base. I think it is Edwardian. I originally thought it was a converted candle stick but now I am not so sure. The original lamp holder is non-earthed, has a ceramic core and is made of brass with no Bakelite. Fortunately, it still worked. I bought from Lamps and Lights some 3 core flex and a shade carrier and this is the result… :)
(Though I should have straightened the shade before taking the picture!)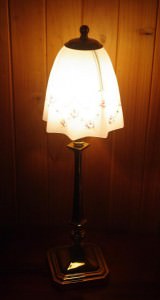 One of my hints from this job:
The shade was incredibly dirty; it must have been used as a ceiling shade for many years without being cleaned. Because old shades can have transfer prints which may be damaged by modern cleaners I tend to clean shades by soaking them in water mixed with a number of table spoons of bicarbonate soda (a common cleaning solution in the late Victorian period in Australia). I simply removed the shade from the solution once a day, sometimes twice, to give it a gentle rub and then returned the shade to the solution. I could have soaked the shade for longer as there are some very small ingrained marks, but I am happy with how it looks now. I don't expect my old lamps to look like new.
Regards,
Martin
Australia
We are delighted you are happy with our products and our service Martin, long may it continue! and please continue to send in your lighting successes … or failures!