With the likes of Midsomer Murders, Doc Martin and Prime Suspect etc, British detective dramas have generally involved contemporary settings (ignoring the Agatha Christie classics of course). Many, adapted from novels, focus on the investigation, procedure and character development rather than the setting or the glitz and glamour maybe of the American market.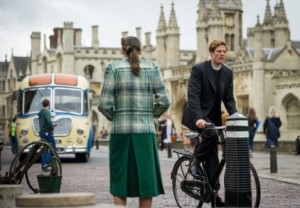 However, the success of the likes of Inspector George Gently and Father Brown has encouraged a recent increase in the number of period crime dramas. The engaging appeal of vintage vehicles, costume and interiors, not to mention the irresistible trapping of customary period policing, as a nation we just can't resist them.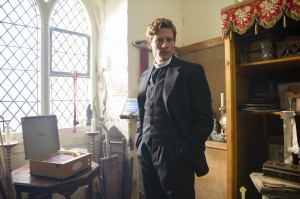 The latest detective drama series from ITV, based on the books written by James Runcie is Grantchester. Set in the 1950s in our very own local Cambridgeshire village of the same name, the unorthodox whiskey drinking, smoking, progressive Anglican vicar Sidney Chambers (played by, and may I say a somewhat dashing, James Norton) develops a tantalising sideline in amateur sleuthing helping the reluctant grumpy Geordie detective (Robson Green) and it was exciting to witness some of the drama firsthand.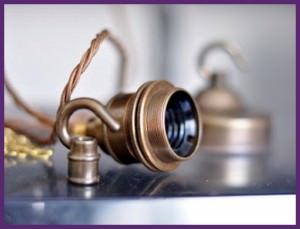 Our vintage range of lighting parts mean we are very lucky to be involved in the TV & Film industry and it was an absolute pleasure to be a supplier of period lighting in 'Grantchester'. It has become a bit of party game now at Lamps and Lights with 'Spot the Lamp'. Sunday night is Downton Abbey, now Monday it's Grantchester.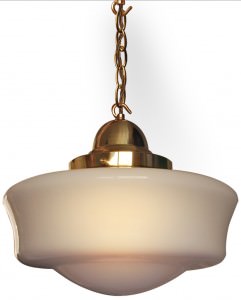 Thank goodness we have a break from Call the Midwife and Upstairs Downstairs or we would be spending every evening in front of the box! Though with the DIY shows being regular customers of ours; DIY SOS and a new 60 Minute Makeover soon to be released it's just another reason to draw the curtains, put the kettle on, cosy up on the sofa and put my feet up for a spot of 'eye spy' :)