It's that time of the year again!
Days are getting shorter and Christmas is upon us again! With spending more time inside, than any other season, what better time to finally set some quality time aside for yourself and give that DIY project a try!
If you have been struggling to think of what kind of presents to get your family members or friends, why not surprise them with a home made gift this year? Or maybe you were looking for ideas on how to boost your mood at home this winter. On dreary and dark evenings, when the sun sets sooner, entering a house lit with warm and dimmed lights, makes coming back home feel more special! Adding some extra lighting can help you achieve that! Instead of buying a new lamp why not try out making one yourself ? If you are looking to create a relaxing and inviting atmosphere at home, without spending a fortune, we have some creative ideas for you to try out this winter!
Here's some lighting inspiration and few practical tips which will hopefully encourage you to "do it yourself" this winter!
Repair a chandelier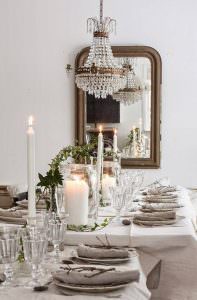 Do you have an old chandelier sitting in the attic? Think of the possibilities! Jazz it up with some colourful lighting cable aka flex, or go for more traditional look and add neutral/vintage tones, also you might need some new earthed lamp holders and replace any broken or split candle tubes and you've got yourself a new and revamped Chandelier which brings elegance and grace to any living or dining room area!
Reuse wine bottles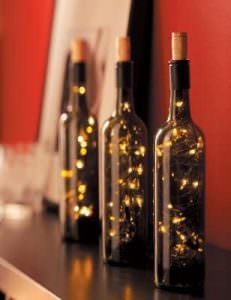 Up-cycle some old wine bottles with some twinkle lights, you can purchase them from various shops that can easily fit into a bottle, opt for smaller ones with a yellow or warmer glow, and place them inside the bottle reusing corks or leaving them open if they came without one! For a better effect use 1 large bottle for a statement piece or several like these 3 to emphasise the result.
Instead of buying light shades try using fancy bottles of your favourite beverages, and fit them with a golden LED bulb which will not only last you longer, but it will also release that warm glow through a see-through "shade" which shows off the designer bulb as well as the bottle! A lot of LED bulbs have ornamental designer elements to them, there are so many bulbs to choose from, curly filaments to jewel ones that can make a statement and light up any room!
Reimagine, recreate and remake the vintage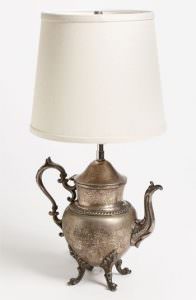 Why not turn a homely object into a table lamp and give it as a present this Christmas? Maybe use a gorgeous teapot or a pretty vase picked up from an antique shop or local thrift store. Simply choose one of our table lamp kits, you will need to know the aperture of the top of your bottle/table lamp, material you are working with and if there is an exit hole for the flex, or you can use a side entry tube instead. Just don't forget to pick out your favourite colour of flex with a switch and plug.
Some other ideas worth mentioning include: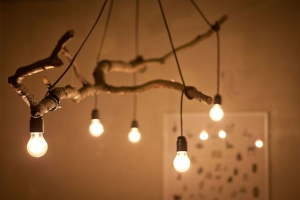 Using natural elements for interiors, a tree branch wrapped around in lighting flex and bulbs hanging down, instead of the usual chandelier/pendant?. An organic and eco-friendly solution for a country home perhaps or to compliment that fresh cut Christmas tree inside your house.
Do you have a family heirloom that has been passed down through generations, but needs a repair? Why not revive the antique or vintage item, and give it to a relative for Christmas; or if you can't bear to pass on your handy work, place it strategically in your home to show it off at the next family gathering!

Candles are also are a great and quick way of adding some light and comfort for any occasion, but be careful around the flammables!
Why not Check out previous blog posts of our 'How To…' questions to help you on your lamp-making journey!

Thank you for reading, and I hope you enjoyed this post! If you would like to further similar DIY project ideas or tips for lighting let us know in the comments!
If you need any more advise or information about lamp parts and hardware just follow the link for our FAQ's here or give us as call on 01223 750153.
Seasons Greetings from Lamps and Lights!