UK orders:
In the unlikely event that the wrong or faulty goods are sent to you we accept the return of goods within 30 working days of receipt. Simply return the goods to our registered address using the Royal Mail Tracked Returns service.  Please let us know if you would like a replacement sent or a refund made.
If goods are needed urgently, please re-order from the website and we will refund the original order in full upon receipt of the returned goods along with any additional postage costs from the second order.
This Return service is only available for orders under 20kg and in boxes no larger than 46cm (D) x 46cm (W) and 61cm (L)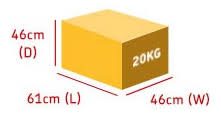 If the goods to return are greater than this, or you want to return the goods using your own courier service; please return the parcel using the form below. Please let us know on the form the details of the problem with the goods.
All Refunds will be processed by us within 14 days of receipt of the returned goods. If you return part of an order the value of the goods will be refunded. If you return a complete order, the complete order including your P&P charge will be refunded.
Orders outside the UK:
Please email us with details of the problem preferably with a picture for us to review.