Lamp holders Information – Lamp holder styles

Our Lampholders come in the following types in various Bayonet Cap (BC/B22) and Edison Screw (ES/E27) sizes:
Please use our product filters to help narrow the lamp holder style and available bulb type.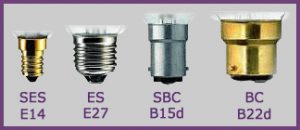 All our Lampholders with shade rings come with two shade rings rather than just the one for a really secure fitting and comply with BS EN 60238 and EN 61184.
For more help on choosing the right bulb holder for your project maybe start with our Blog "Our guide to lampholders" and also checkout the "Related Blogs & FAQ's" on this page for loads more useful information. If you want to create a complete Ceiling Pendant Light fitting head over to our "Ceiling Pendant Light Designs Page" where you can put a lighting kit together.
Certification is available on request.
Bulb holder types available
Edison Screw

Bulb holder types available
Bayonet Cap

Bulb holder types available
Bayonet Cap